FULL SERVICE BOAT REPAIR & SERVICE
We can repair anything on a boat.  From Fiberglass repair to rigging, to outboard motor repair, to aluminum, to upholstery.  We can repair or improve your boat.  As long as you can trailer it to us we can fix it.
CUSTOM FIBERGLASS FABRICATION & REPAIR SERVICES!
FiberTex & Supply Inc. can repair anything made of a composite material, including fiberglass, graphite, and exotic cloths like DuPont's Kevlar. We are the South Texas factory OEM warranty repair provider for many boat manufacturers, and we are insurance friendly. Please drop by our shop, email, or fax us your drawings for a quote on any of your custom fabrication needs. We also offer other repair services, including:
Personal Watercraft Repairs
Full Fiberglass Boat Repair
Raised platforms
Complete transom repair or replacement
Exotic Auto Body Repairs
Holding Tank Repairs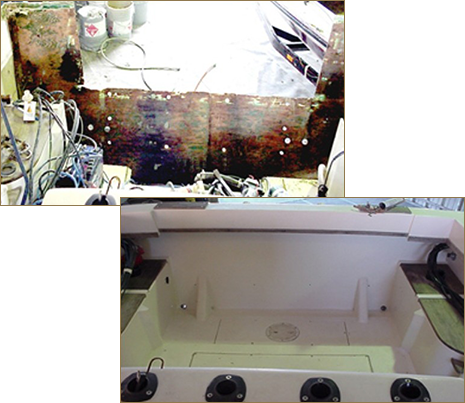 BOAT WIRING AND ACCESSORIES INSTALLATION
Mike Dunbar has been rigging and wiring boats for over 15 years. Whether you need a complete rewiring or help installing a new GPS, Power pole, trolling motor, or stereo Mike is the man for the job. We also offer all types of lighting. Interior courtesy lights, naviagtion and anchor lights and LED flood or spot lights. We can help you choose what is right for your boat and budget or simply help with the install of your latest purchase.
COMPLETE OUTBOARD SERVICE AND REPAIRS
Gary Nichols is our service manager. Gary has extensive experience in most brands of outboard motor. He will be happy to consult with you on your repair or service needs no mater the brand.

CUSTOM COMPOSITE FABRICATION SERVICES
FiberTex & Supply Inc. offers a wide variety of fiberglass and custom composite fabrication services from complete boat makeovers and transom replacements to repairing damage on motorhomes, monster trucks, and other vehicles. Our fabrication skills also extend to art, custom baptistry, and much more!
IF IT IS MADE WITH FIBERGLASS WE CAN BUILD IT OR REPAIR IT!!